Gift Cards make the perfect gift for Any Body!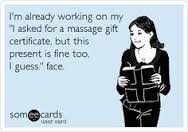 Regarding Awaking Therapeutics Gift Certificate Policy:
We request the courtesy of a 24-hour cancelation notice of an appointment. Your massage session is reserved especially for you.
*Ky. Rev. Stat. §367.890
A gift card expiration date shall not be less than one year from the date of issuance. If no expiration date is printed on the front or back of the card, it is presumed valid until it is redeemed.
Ky. Rev. Stat. §367.890(3)
No person or entity shall charge service charges or fees relative to that gift card, including dormancy fees, latency fees, or administrative fees, that have the effect of reducing the total amount for which the holder of the gift card may redeem the gift card until the expiration date on the card has expired.